Talbots was honored to donate a maximum guarantee of $50,000 to Susan G. Komen® in support of the fight to end breast cancer.
Thank you for supporting The Art of the Scarf. Your purchase of one of the scarves in our collection made a difference to those affected by breast cancer. In the spirit of women helping women, Talbots donated 10% of the net proceeds from September 26 & September 27 to Susan G. Komen.*
Limited-Edition Collection
Talbots commissioned three internationally renowned female artists to interpret the courage, strength and determination of women. The result is our 3rd annual limited-edition collection of one-of-a-kind scarves. Each is pure silk and a luxurious 41" square.
karen mabon
@karenmabon
"As females we are strongest when we lift each other up. I wanted the scarf to celebrate the importance of building networks and helping other women."
jessica durrant
@jessillustrator
"I wanted to create a light, ethereal work of art, and I use flowers and butterflies in my artwork as symbols of endless change and a quiet strength."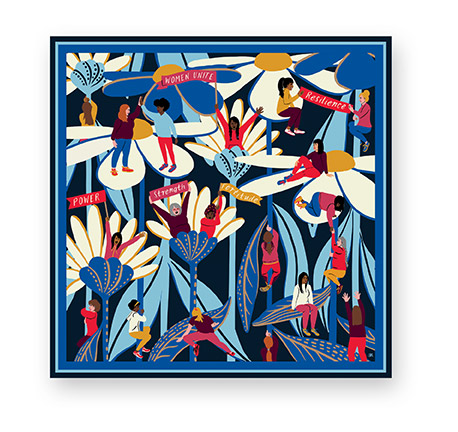 ali mac
@alimacdoodle
"I was inspired to illustrate the beauty in women supporting women. Flowers seemed like the perfect foundation, as they symbolize friendship, love and growth."
As Seen On
See how influencers are perfecting the art of the scarf.
*Talbots, headquartered at One Talbots Drive, Hingham, MA 02043, will donate to Susan G. Komen® 10% of the net proceeds (at least $6) from each Art of the Scarf Collection item sold from 9/21/2020 to 10/31/2020, with a guaranteed maximum donation of $50,000 when combined with the proceeds from the Talbots Shop For A Cause Event (in which approximately .5%-1% of the amount of the pre-tax purchase price from merchandise sales via any Talbots channel 9/26/20 – 9/27/20 will be donated to Susan G. Komen®), in support of Komen's Breast Care Helpline. A copy of Komen's most recently filed financial report is available from the Charities Registry on the New York State Attorney General's website (www.charitiesnys.com) or, upon request, by contacting the New York State Attorney General, Charities Bureau, 28 Liberty Street, New York, NY 10005, or Susan G. Komen® at 13770 Noel Road, Suite 801889, Dallas, Texas 75380. You also may obtain information on charitable organizations from the New York State Office of the Attorney General at www.charitiesnys.com or (212) 416-8401. This contribution is not tax deductible. Susan G. Komen®'s mission is to save lives by meeting the most critical needs in our communities and investing in breakthrough research to prevent and cure breast cancer. For more information, please contact Susan G. Komen® at 13770 Noel Road, Suite 801889, Dallas, Texas 75380 or visit www.komen.org. Talbots is not affiliated with, sponsored or endorsed by Susan G. Komen®.