Timely and timeless—stories that fit your style.
---
One Colorful Season
This season, embrace color in the coziest way possible: sweaters. Whether you add a pop, layer for an ombré effect, or go full-on monochrome, color is the easiest way to freshen your look.
Barely-there blush cowlnecks. Vibrant fuchsia cableknits. These styles are as warm and inviting as YOU! Want even more radiance? Add a red scarf.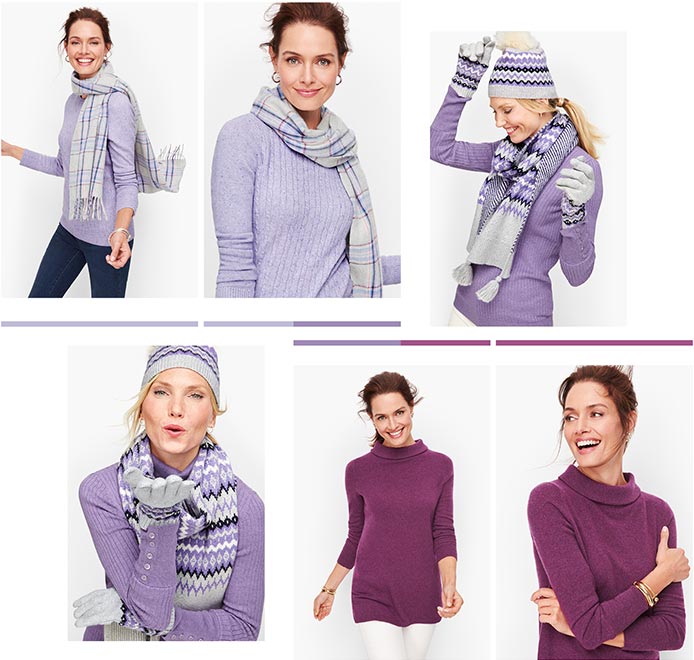 Whether it's pale orchid or the most perfect plum, purple is having a moment in the spotlight this season. Sumptuous cashmere. Textured turtlenecks. They're all showstoppers.
Grey might be the new black, but that doesn't mean you should retire black (or white) entirely. Instead, mix these statement neutrals with festive Fair Isle accessories.
Ahh, blue. The universal color of comfort. As reliable as your favorite jeans. So how do you make this go-to hue pop? Pair with contrasting colors!
Right now, it's all about light aqua and rich juniper. From playful dotted cashmere to tweed-inspired cableknits, these shades are a breath of fresh air.
Tortoise tones and winter whites. Varying in textures and shades, you can't go wrong with these chic neutrals—especially when worn together.