Timely and timeless—stories that fit your style.
---
T BY TALBOTS REMIXED
Mix our most comfortable collection with classics for easy summer outfits.
Loved for its versatility and ultra-comfortable fit, our T by Talbots collection helps you master the art of easy dressing. Inspired by the way you live every day, here are ways to mix T by Talbots with timeless pieces for a fresh twist.
Carefree Weekends
Jeans and a tee. An effortless go-to that never goes out of style, but have some fun with it! Think outside the white t-shirt and opt for a summery stripe tee. Our T by Talbots tee collection is packed with fun details like rolled cuffs, side slits and more.
Sunny Days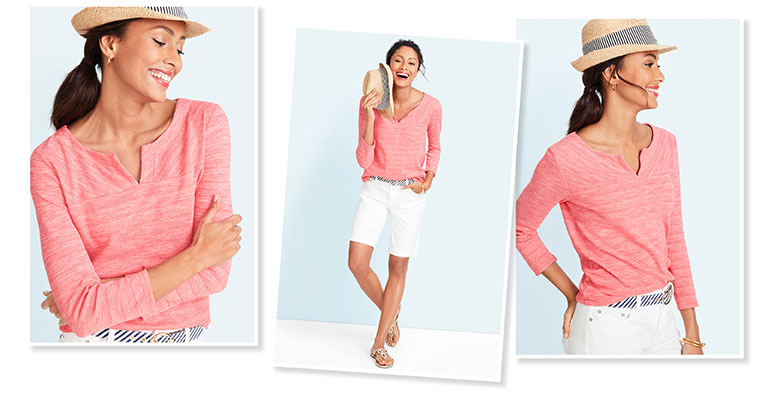 Summer means deliciously long days—so you're going to want an outfit that keeps you cool and protects you from the sun. Pair your shorts with any T by Talbots breathable, cotton-blend top and finish the look with a raffia fedora.
Balmy Nights
A breezy midi skirt and a tee. It's perfect for cruising the boardwalk by day, but as the sun (and temp) goes down, reach for a seasonless favorite: the denim jacket. Our T by Talbots skirts are casual essentials that look great with this classic layer!