---
The Art of Mixing & Matching
If you don't already know, we'll let you in on a little secret: the most fun you'll ever have with style (besides looking stunning in that little black dress or those show-stopping shoes) is mixing & matching.
Why do it?
Because it refreshes your mood and puts a smile on your face! And who doesn't need that—after a thought-it-would-never-end winter? Hello season of renewal.

There are no rules to mixing and matching. Style is a silent expression of personality—so wear what makes YOU feel good! Mixed prints. Fabrics of different textures. Unexpected color pairings. Just have fun with it!

We won't tell you how you should do it (because that's up to you!), but we will share a few tips to inspire you.
The Tricks of the Trade
Mixing prints might seem intimidating at first, but once you try it you won't want to stop! The best way to ease into this look is by pairing texture with a print. You'll still achieve the contrast, just in a softer statement.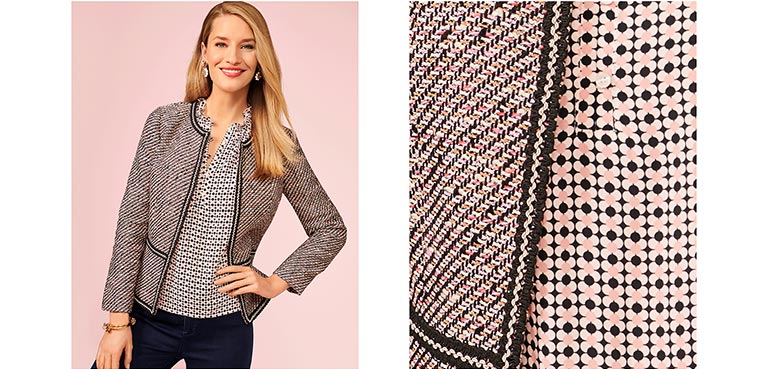 Or go bold and mix two entirely different prints, but stay within the same color family to keep the look clean and cohesive.
Spring weather can make outfit planning a challenge—you leave the house in the morning needing a toasty coat, but by the time lunch rolls around you're shedding layers like it is summer! This is when transitional pieces are helpful. Is there a sleeveless dress you've been dying to wear, but it's still too chilly to uncover your arms? Add a denim jacket! Denim is a great way to make any outfit casual.
Checks and color blocking are always in style, but spring calls for livelier hues. Try pairing inky blues with warm coral for a fresh twist.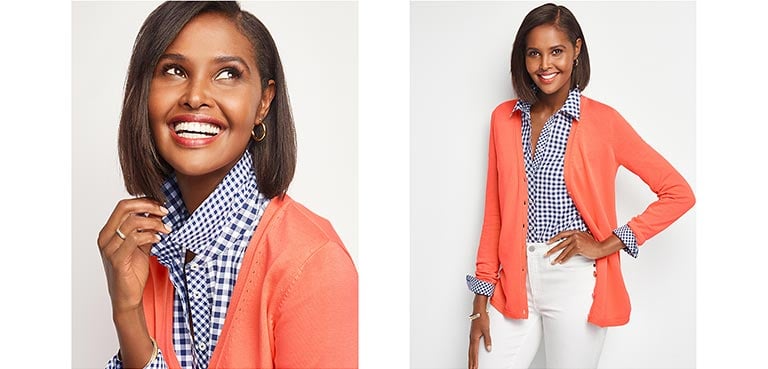 Now is the time to switch up your routine and get out of that winter-weather fashion rut that we're all guilty of falling into. Take pieces you already own and freshen them up with some new must-haves that showcase your style in a new light and voila! Instant wardrobe refresh.
Ready to renew your look?
SHOP NEW ARRIVALS