View Catalogs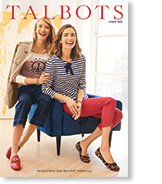 RIGHT HERE, RIGHT NOW
Summer's always too short—so savor it. In our opinion, there's no better time to have fun and live life to its fullest than August. And how do you express that carefree joie de vivre with your own personal style? That's easy. Think simple, effortless, wearable pieces put together with a flair that's all your own.
Classic American style with a playful French twist. Modern navy and ivory with a touch of summer blush. Soft and pretty plaids that live in the moment. So much to love. Right here. Right now.
YOUR SUMMER MOOD
Lazy afternoons. Long balmy nights. You live for summer, when your mood is bright and sunny. Now's the time to fill your closet with casual, relaxed, irresistible pieces in happy colors and nature prints. Sit back. Smile. Repeat.