View Catalogs
The Classics NOW!
Our fall collection is designed around the idea that timeless should also be timely. Yet we know that all trends aren't for all women. We keep you in mind with each and every new twist we give the classics you love—so they feel fresh and exciting. Smile-worthy colors. Irresistible prints and patterns. Flattering, feminine shapes. Always crafted with care and quality. Nothing could be more MODERN and CLASSIC at the same time.
Nothing could be more TALBOTS.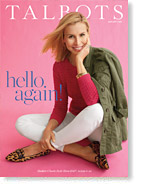 Welcome Home
When we designed our August collection, we wanted to lift your spirits. Here you'll find mood-boosting colors, irresistible prints and patterns and those must-have styles you'll wear now and right into fall. And all with an unmistakable charm that you won't find anywhere else.
Our hearts are full of gratitude for your continued loyalty during these extraordinary times. Everything we do, we do for you.