View Catalogs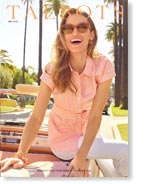 SUNSHINE state of mind
We love the sun! It brightens your mood, illuminates your daydreams and sheds clear light on your personal style.
In a sunshine state of mind, Talbots brings you a fresh new collection of happy classics with a modern twist.
The most beautiful colors under the sun. Gorgeous details that are our signature. And of course, Talbots promise of quality will always make you feel good and look great. Shine on.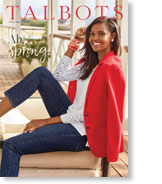 Ah, spring.
There's something in the air this time of year. Wave goodbye to winter and say hello again to your fabulous self.
Our vibrant new collection brings you gorgeous prints, happy patterns and fresh, irresistible colors inspired by the runway. Here, you'll find modern, classic style with fashion trends we love—all with beautiful, feminine details and Talbots unsurpassed quality.
Mix it up. Have fun. Get ready to bloom!