View Catalogs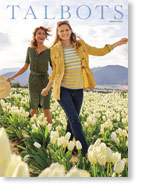 Let's go!
Get outdoors. Breathe in the fresh air. Embrace all that's happy and new. It's your time to shine!
Here, you'll find classics you love with a modern twist. Think fresh prints and patterns. Gorgeous new colors. And unexpected ways to put it all together.
Mix it up. Let your style lead you on adventures. You'll know it's good when it makes you smile.
NEW and NOW
Live in the moment with our fresh new collection inspired by you. Amazing styles with sumptuous layers and textures. Happy colors that are so right now. The perfect fit every time. And, of course—the quality we're famous for. But what's always more important? The woman who wears it. Seize your style. Make everything now feel NEW.