View Catalogs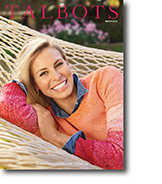 Spring It On!
Wave goodbye to winter. Say hello to sunshine!
Just in time for spring, Talbots has everything you need to usher in the mood-lifting season we've been waiting for. Our vibrant new collection features gorgeous prints and patterns, colors like a breath of fresh air, and the style you love—all with an irresistible, of-the-moment twist.
It's finally here, so embrace the day and let your spirit blossom!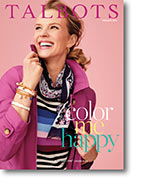 Color Me Happy
This February, we're focusing on the things that put a smile on our faces. The friendships that have sustained us through these challenging times. The comforts of home with its little luxuries. The simple things that make one day different from the day before.
Our colorful new collection does just that. Think head-to-toe, mood-boosting hues. Uplifting blues. Pretty pinks. Yummy yellows. Soft jades. Cool, refreshing mints.
Spring's in sight—but until it arrives—we're determined to make ourselves as happy as possible.