View Catalogs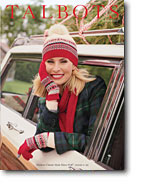 Home for the Holidays
It's the little things that make us at home for the holidays.
The scent of fresh pine. The soft crunch of freshly fallen snow. Twinkling lights. The fun of baking cookies from your grandmother's (or her grandmother's) timeless recipe. Cozy moments with everyone snuggled up—or maybe now it's Facetime by the fire.
This year, we share a renewed appreciation for so many things: traditions old and new, the moments we're able to share right now, and for you—our Talbots family. We're grateful to be sharing the holidays with you. Wishing you all the comfort and joy of the season!
Together in Spirit
This year, we're giving thanks for the things that make us smile. The comforts of home. The crisp air of the beautiful outdoors. The moments we share with loved ones—and the warmth they bring to our lives.
We're also thankful for you, our Talbots family. To show our gratitude, we made comfort a big part of our November collection. After all, isn't comfort something we all deserve more of?
Think comfy cozy layers. Beautiful soft colors. Festive Fair Isle sweaters. And a new, irresistible, après-ski-inspired collection to put you in a chalet state of mind.